Location
Walt Disney World Swan and Dolphin Resort
Lake Buena Vista, FL, USA | May 30 - June 2, 2017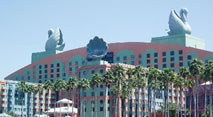 The 2017 ECTC will be taking place at the Walt Disney World Swan and Dolphin Resort, in Lake Buena Vista, Florida, USA. Please note that the Swan and Dolphin are two separate buildings and ALL ECTC meetings will be taking place in Dolphin Resort. Should you book a hotel room through our website you will automatically be issued a room in the Walt Disney World Dolphin Resort. If you choose to use another website to book a hotel room, please ask to be placed in the Dolphin Resort. The Swan and Dolphin, while on the same property, are separated by an outside walking bridge. The walking distance between the two buildings is approximately 5 minutes.
Conference Hotel:

Walt Disney World Swan and Dolphin
1500 Epcot Resorts Blvd.
Lake Buena Vista, FL | 32830 | USA
407-934-4000 | 407-934-4884
Reserve a Hotel Room
HERE
Note about Hotel Rooms:
Attendees should note that only reputable sites should be used to book a hotel room for the 2017 ECTC. Be advised that you may receive emails about booking a hotel room for ECTC 2016 from 3rd party companies. These emails and sites are not to be trusted. The only formal communication ECTC will convey about hotel rooms will come in the form of ECTC e-blasts or ECTC emails from our Executive Committee. ECTC's only authorized site for reserving a room is through our website (www.ectc.net). You may, however, use other trusted sites that you personally have used in the past to book travel. Please be advised, there are scam artists out there and if it's too good to be true it likely is. Should you have any questions about booking a hotel room please contact ECTC staff.
Note about Transportation Services:
There is no complimentary transportation to and from the airport to Walt Disney World Swan and Dolphin . Please check with the service desk on the various forms of transportation including taxis, buses, and private car services.