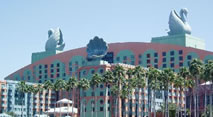 The Electronic Components and Technology Conference (ECTC) is the premier international event that brings together the best in packaging, components and microelectronic systems science, technology and education in an environment of cooperation and technical exchange. ECTC is sponsored by the IEEE Electronics Packaging Society, and co-located with ITherm 2020.
Please see an important announcement for Exhibitors and Sponsors.

Upcoming Dates
January 6, 2020
| Conference Registration Opens
January 6, 2020
| 2020 Hotel Reservation Opens
February 7, 2020
| Advance Program Online
Location
Walt Disney World Swan and Dolphin Resort
Lake Buena Vista, Florida USA
May 26 - 29, 2020
Located in the heart of the most magical place on earth, the Walt Disney World Swan and Dolphin Resort provides a truly extraordinary backdrop for a meeting. Beautiful tropical landscaping, tranquil waterways and classic art and architecture work together to create a stunning landmark in the midst of one of the most spectacular places on earth.

Interested in receiving updates from us?
Subscribe to our mailing list by clicking on this link