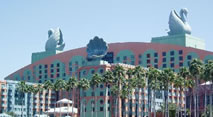 The Electronic Components and Technology Conference (ECTC) is the premier international event that brings together the best in packaging, components and microelectronic systems science, technology and education in an environment of cooperation and technical exchange. ECTC is sponsored by the Components, Packaging and Manufacturing Technology (CPMT) Society of the IEEE.
Links and Files
Upcoming Dates
02.09.2017
| Advance Program Online
02.24.2017
| Final Manuscripts and Copyright Forms Due
04.28.2017
| Final Program Online & Last Day for Discounted Hotel Room Reservation
Location
Walt Disney World Swan and Dolphin Resort
Lake Buena Vista, Florida USA
May 30 - June 2, 2017
Located in the heart of the most magical place on earth, the Walt Disney World Swan and Dolphin Resort provides a truly extraordinary backdrop for a meeting. Beautiful tropical landscaping, tranquil waterways and classic art and architecture work together to create a stunning landmark in the midst of one of the most spectacular places on earth. Room reservations.